Con l'acquisto dell'ultima versione di RAD Studio 10.2 Tokyo e senza alcun costo aggiuntivo, si ha accesso anche alle versioni precedenti*
*Per il download e l'installazione di XE8 come versione precedente, consultare la pagina di supporto.
Come ottenere le licenze e scaricare le versioni precedenti:
Named user licenses, 5-packs o 10-packs
Ogni serial number che richiede anche una licenza per una versione precedente, deve essere registrato con un unico account Embadrcadero Developer Network (EDN) che è associato all'indicato utilizzatore finale del prodotto
Prima di richiedere le versioni precedenti è necessario aver installato e registrato la versione 10.1 Berlin
Le versioni precedenti devono essere richieste entro 180 giorni dall'acquisto del prodotto
Le versioni precedenti sono disponibili per Mobile e FireDAC Client/Server Add-On Packs
La versione precedente sarà legata all'user account e non può essere ceduta né venduta. Se la versione 10.1 Berlin di cui si è in possesso è un upgrade, non si riceveranno ulteriori licenze per la versione precedente di cui si era già in possesso.
RAD Studio Overview
The fastest way to develop cross-platform Native Apps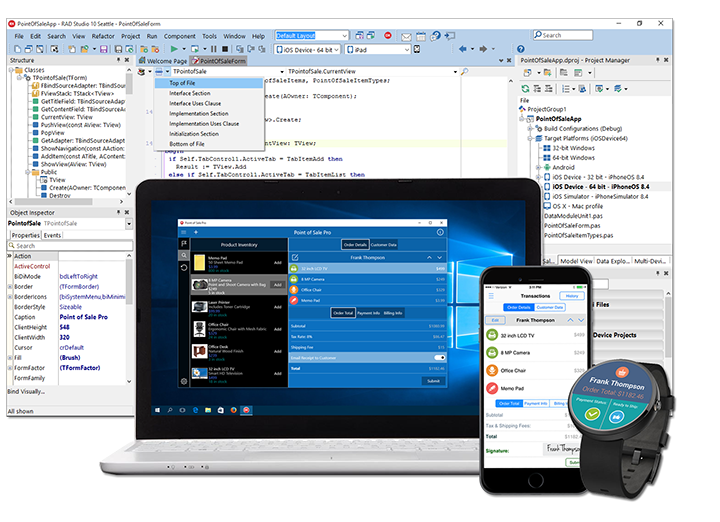 RAD Studio™ is the fastest way to write, compile, package and develop cross-platform native applications with flexible cloud services and broad IoT connectivity from a single codebase. Fast Developers pick RAD Studio because it delivers Enterprise Strong Development™ and deployment 5x faster across desktop, server, mobile, cloud, and database platforms.




Reach billions of users worldwide with your apps!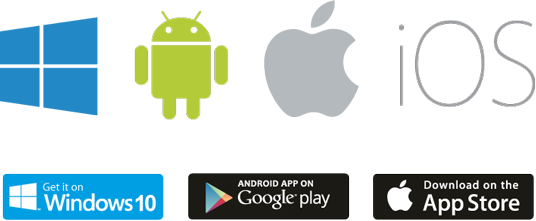 Write once and simply recompile to reach billions of devices natively running Windows, Linux, macOS, iOS and Android. With integrated app-store packaging its easier than ever to reach the Windows 10, macOS, iOS and Android stores, helping your apps sell to the widest audience possible.
The fastest way to the Windows 10 store

RAD Studio offers the first IDE with integrated Windows 10 Desktop Bridge packaging, helping developers port existing Windows applications to the Windows 10 stores faster than with any other tool chain. Learn more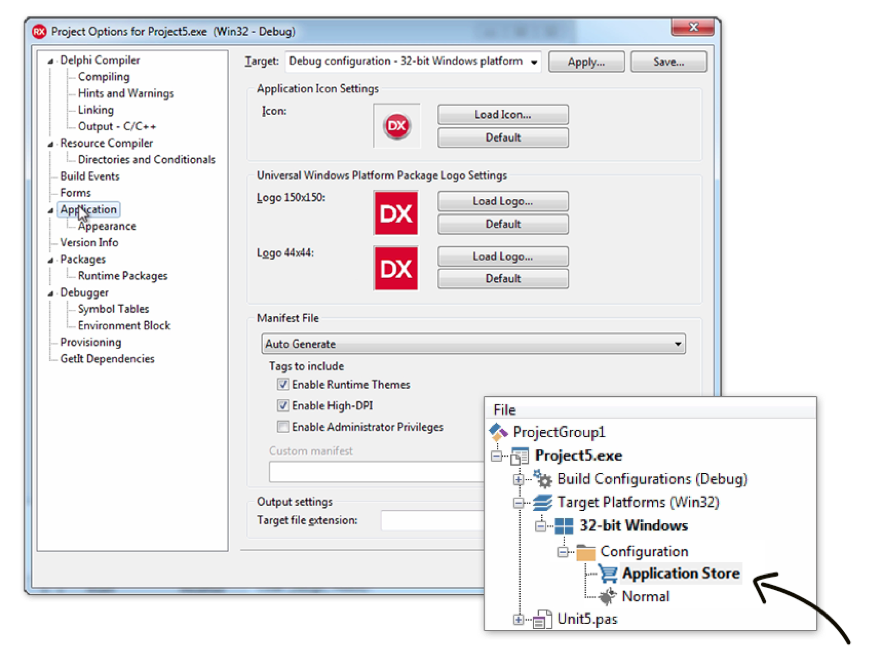 CLANG Enhanced C++ Compiler for Windows 10 and Mobile

C++Builder provides a C++ compiler for Windows 10 (32-bit and 64-bit) and Mobile (iOS and Android) with RAD extensions for the fastest Standard C++ Windows and Cross-Platform development. Tight integration with VCL for Windows and FMX cross-platform frameworks, C++11 language support and ARC (Automatic Reference Counting) based memory management for mobile, with backward compatibility. C++Builder is a must have upgrade for C++Builder Windows VCL developers or new C++ mobile and desktop developers coming from other languages and toolsets such as Java, ObjectiveC, C#, XCode, Xamarin and Visual Studio.
Powerful Cross-Platform UX

Code once and deploy to Windows 10, Android, iOS and OSX with FireUI

RAD Studio features the FireUI Multi-Device Designer and cross-platform UI framework that delivers the only true single source solution for natively compiled applications. Most other vendors who support native cross-platform development require separate user interfaces to be written on each platform.

Mobile developers can finally build a common, native look and feel UI that works across multiple form factors of mobile phones, tablets, and desktop systems – all at once! From the user interface code through the rest of the complete client software stack, your apps can access platform APIs, device sensors and services, and deliver the best app performance with native GPU and CPU support all from a common and shared code base.
Preview at Design Time with FireUI

FireUI App Previews lets you preview your FireMonkey application on iOS, Android, OSX and Windows targets as you are designing the app. Changes made in the FMX Designer are broadcasted in real time to connected devices using the appropriate Styles for the devices.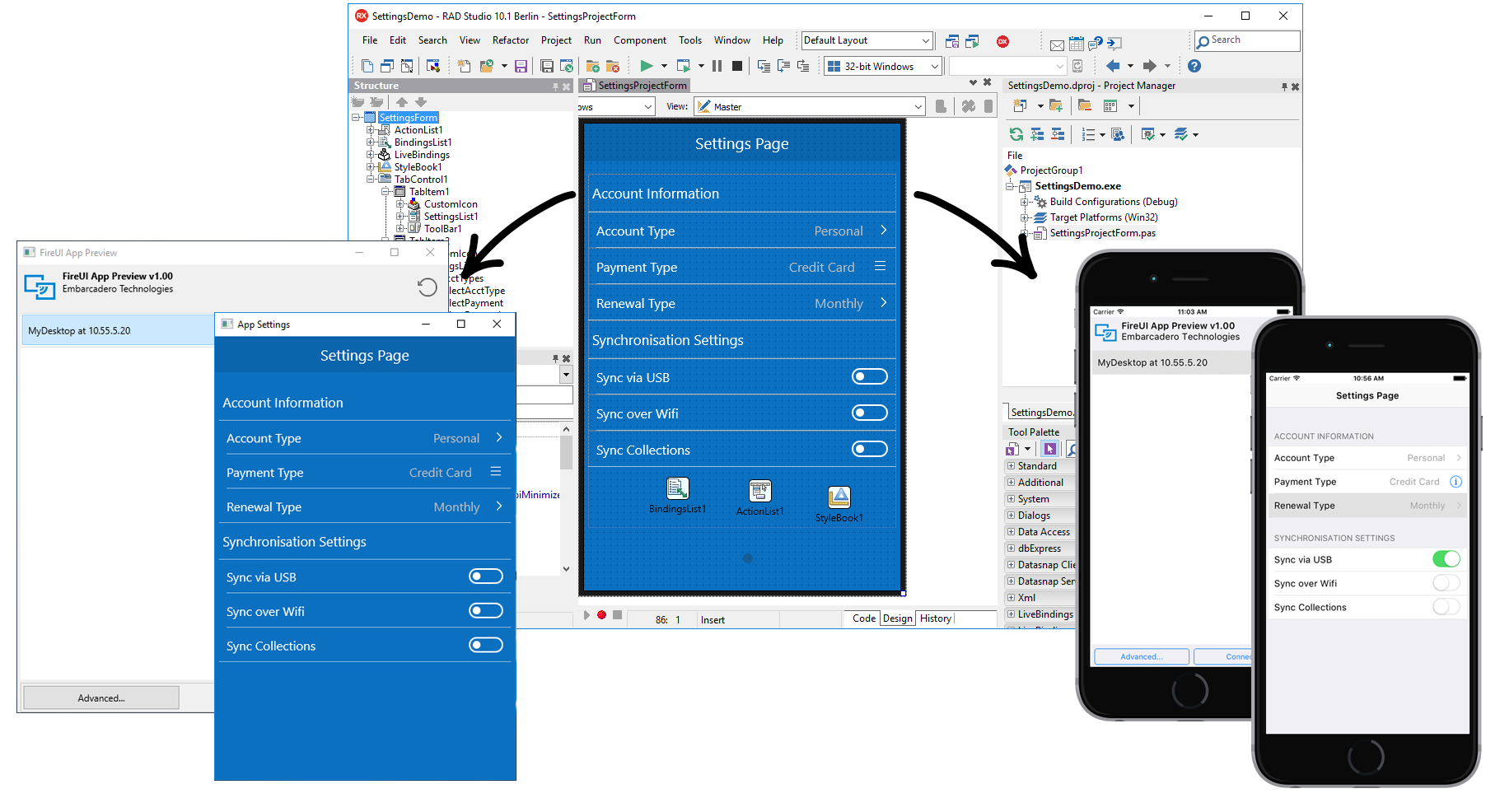 Leading IoT Application Development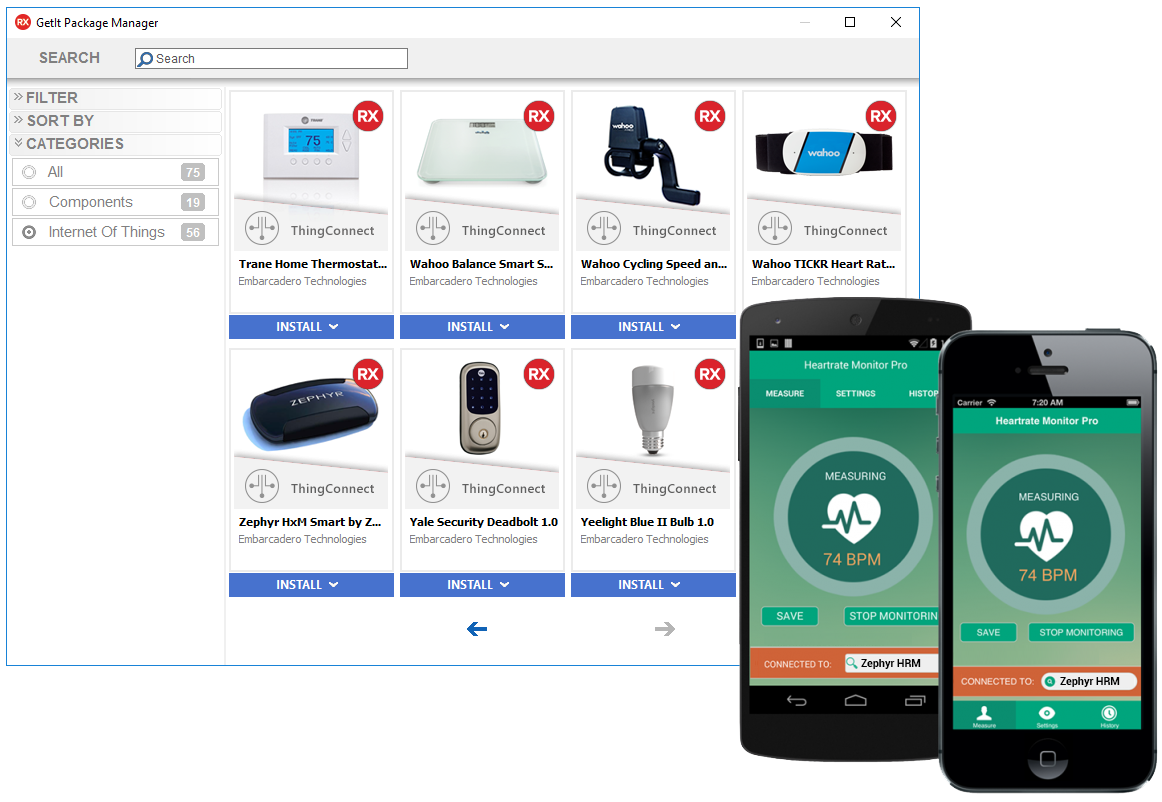 Easily connect Internet of Things gadgets and devices to your app or Enterprise.

RAD Studio enables developers to harness the power of IoT (Internet of Things) solutions. Developers can seamlessly add new capabilities to existing desktop and mobile applications by integrating devices, sensors, enterprise data and cloud services.

More and more gadgets and devices are being added to the Internet of Things ecosystem every day. The inter-connection between these gadgets and devices has the potential to create remarkable, completely new user experiences that integrate the physical environment.


Build Hyper-connected and Flexible Apps