La versione Professional include il Mobile Add-On.
La versione Enterprise include il Mobile Add-On e tutte le funzionalità di FireDAC.
C++Builder Overview
Modern C++: Clang-enhanced C++ compiler

C++Builder includes an enhanced Clang-based compiler for Windows (32 and 64), iOS, and Android. Use this one compiler across all platforms for fast and consistent development. There are some great language extensions for powerful code techniques not yet in the C++ standard, including properties and automatic reference counting (ARC), which we think you'll love. Completely backwards compatible for older C++, it has full C++11 support, with C++17 and Linux support coming soon.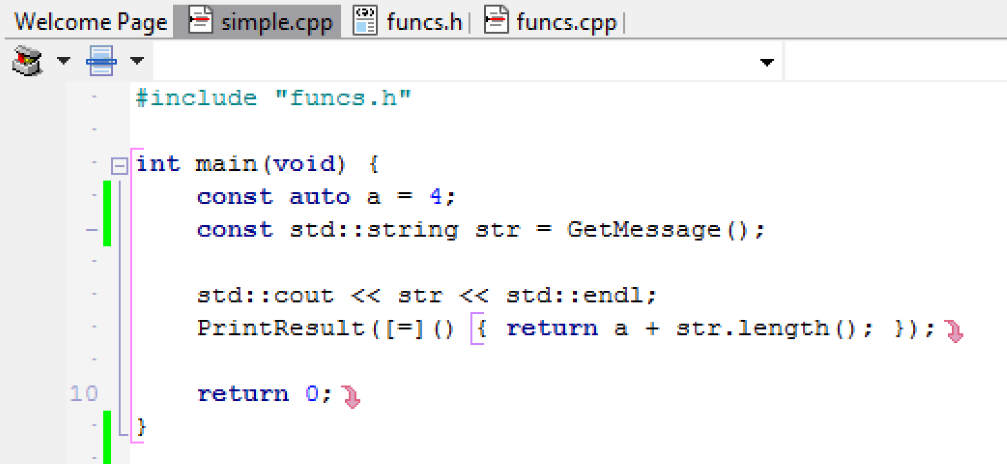 If you've spent time with other C++ IDEs, the ease of cross-platform support in C++Builder will be eye-opening. And, if you're used to other languages, the power of C++ combined with our frameworks will make you feel right at home.

Cross-platform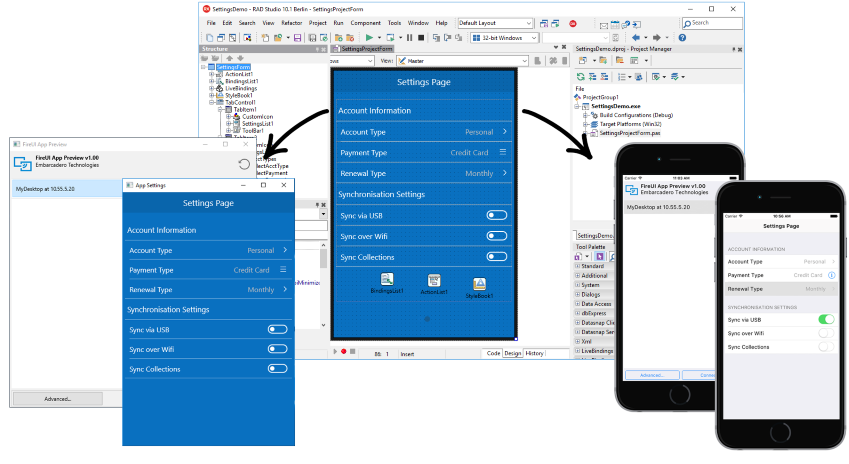 One compiler, one UI framework (even with native controls), one IDE, one set of libraries and frameworks. Full support for four platforms, with more on the way.

Tired of rewriting several UIs for your application? With the multi-device designer, you can create the basic UI just once, and customize for each platform or even per device. For example, build a mobile UI, and then quickly and easily derive an iOS or iPad UI that has a truly native look-and-feel.

The FireMonkey UI framework is vectorized and powered by the GPU, giving it unparalleled UI speed and rendering quality. It even supports native controls—actual buttons on Windows, and actual text boxes on iOS—don't fake it like other cross-platform frameworks.

Database, REST, web, cloud and IoT, and app connection frameworks which work across platforms and devices. Stop messing around with multiple frameworks and designers: halve your development time. Use app tethering to connect a tablet or Mac app to the Windows version of the same application.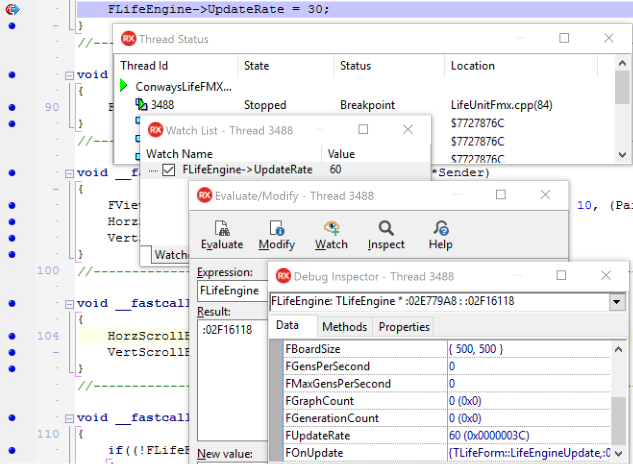 IDE and debugger

A world-class IDE and integrated debugger — we invented many of the features you may be accustomed to from other platforms.

C++ code and parameter completion.
Rename refactoring.
Watches, local variables.
The object inspector.
Conditional and logging breakpoints.
Expandable drill-downable evaluation tooltips.
Inspection and evaluation windows and much more.

If you're a hardcore developer, then you'll enjoy our extremely powerful assembly view.

Does MFC give you nightmares, or is wxWidgets too basic? The VCL is a rich, unparalleled framework that wraps native Windows controls, and which goes well beyond the offerings any other framework provides.

It is completely native, fully object-oriented with properties, events, and a visual designer, and extensive styling support. Enjoy a massive number of controls for all OS versions—all the way through to Windows 10, plus incredible support for custom controls if you want to write your own.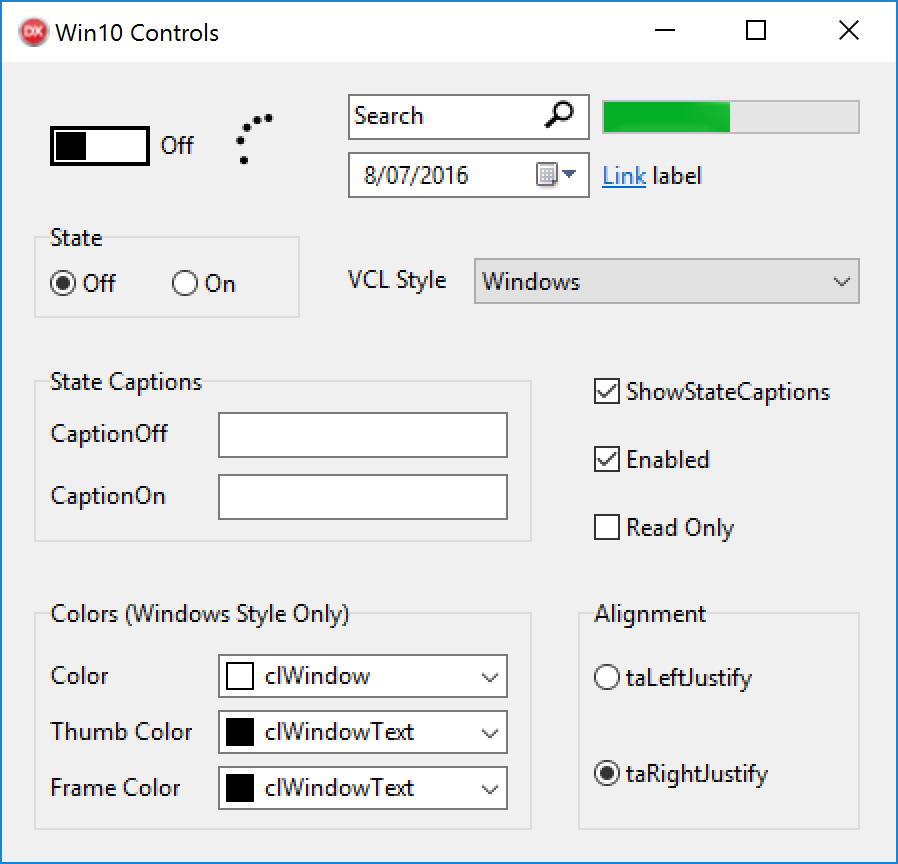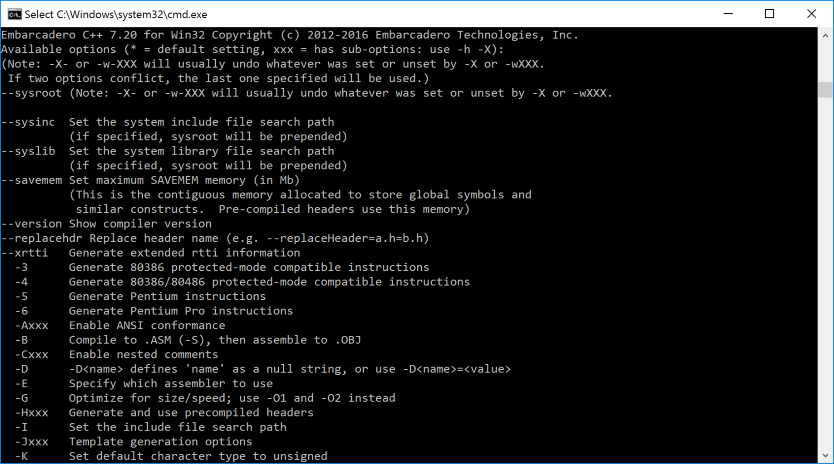 Fast development, for the full-range developer

C++Builder is highly popular with developers of scientific, engineering, and medical software, mobile apps, enterprise and database systems, small desktop apps, and gigantic multi-tier solutions. It's native, with great libraries for serious development. Our compiler optimizes for fast code, our frameworks help you save precious time, and you'll also enjoy great support for cross-platform applications.